Another hello from down south
01-31-2011, 05:50 PM
Ben Mc.
Member


Posts: 9
Joined: Jan 2011
Reputation: 0
Hello y'all, checking in from Church Point, Louisiana here. Just finding out about the Wachtelhund myself & I am completely fascinated! Hope to provide a home for one soon!

I do a lot of duck & deer hunting, as well as woodcock & rabbits after the ducks & deer are finished with. I currently have a Boykin Spaniel out of Goose Pond Kennels in Gresham, S.C. He's an amazing dog, but unfortunately he never took to the water like they're supposed to so I couldn't make much of a duck hunting dog out of him. He's hell in a dove field and is catching on flushing woodcock pretty well.
01-31-2011, 05:59 PM
Dave D.
DWNA-VDW Member


Posts: 423
Joined: Apr 2006
Reputation: 0
Welcome Ben...

We will be having several litters this year and a nice mix of colors. I think you will be extremely happy with how they perform in and out of the water.

Dave Dyer
---
Dave Dyer
OakRidge Kennels - Versatile Dogs for Versatile Hunters
http://www.Oakridgewachtelhund.com
01-31-2011, 08:56 PM
Powell D
Ex-DWNA Member


Posts: 167
Joined: Jan 2010
Reputation: 0
Good to have another person from the south. You should definitely read up on the breed and ask some questions. Post up some pictures of the Boykin.
---
Click to see Pipers Pedigree
02-01-2011, 10:09 AM
Ben Mc.
Member


Posts: 9
Joined: Jan 2011
Reputation: 0
Thanks, I was going to provide a home & hunting grounds for the 5 year old that needed to be relocated, but the owner has decided to keep it and try to remedy the situation. I fully understand & hope it works out for him, his family, & his hunting companion.

So now that I'm hooked I guess I'll be in the market for a puppy...
02-01-2011, 10:51 AM
Brady
DWNA Member


Posts: 378
Joined: Feb 2010
Reputation: 0
Ben,

Glad to see you on the forum! Well, I am both glad and sad regarding rehoming Bogie. I appreciate you stepping into the fold. If nothing else, I am glad that we have directed you towards the wachtelhund. After speaking with you on the phone, I have little doubt that a wachtelhund would be a great match for you! Hopefully Dave Pepe has already directed you towards Jenni and Tom Halstead who just had a litter. I bought my dog, Caliber, from the Halsteads and am very proud of him. I think that their Dam is a sister to Bogie. Certainly, they are from the same kennel and are both ″B″ liter pups.

Again, welcome aboard. Hopefully we can do some hunting together in the future.

Brady
02-01-2011, 03:25 PM
Ben Mc.
Member


Posts: 9
Joined: Jan 2011
Reputation: 0
Thanks Brady,

I have made contact with the Halsteads and will be strongly considering one of their puppies. Likewise, hope to get together to do some hunting in the future!

Ben
02-04-2011, 09:34 PM
Lance
Member


Posts: 230
Joined: May 2007
Reputation: 0
Hey Ben I had a boykin and a wachtel for a couple of years and they made a great team. I'm in Metairie a little piece from you but close enough to see one in person if you like.

02-08-2011, 06:21 PM
Ben Mc.
Member


Posts: 9
Joined: Jan 2011
Reputation: 0
Might take you up on that next time I'm in your area Lance.
Here's a pic of Roux, my Boykin last day of woodcock season. 3 man hunting party. He did a jam up job flushing birds.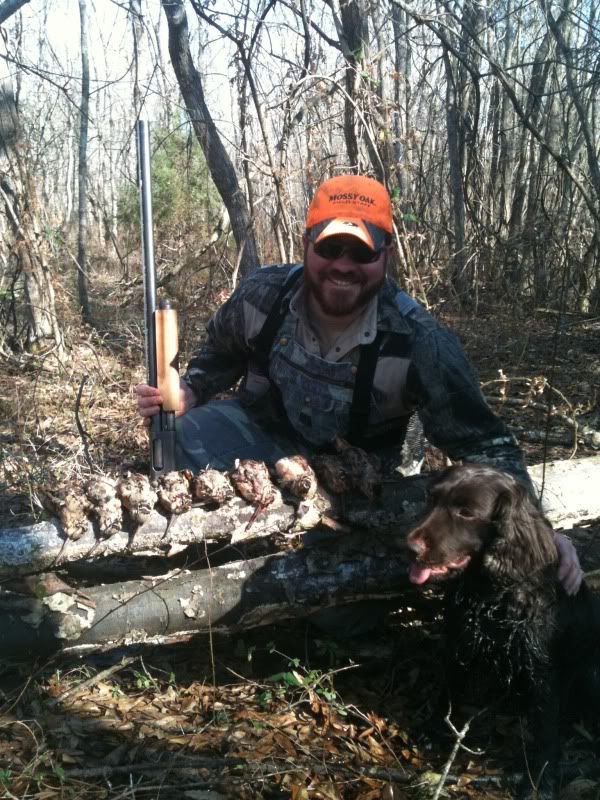 02-08-2011, 09:15 PM
Lance
Member


Posts: 230
Joined: May 2007
Reputation: 0
Here is Ava with a couple of snipe from today. She flushed a bunch more but I missed a few and some flew right down her nose not offering a shot. Snipe are a little smaller that woodcock but the seaons longer and you can shoot eight (if you can hit the things while stomping in the ick). Also here is a pick of Ava and my boykin on a day when they pulled some great tag team action retrieving ducks.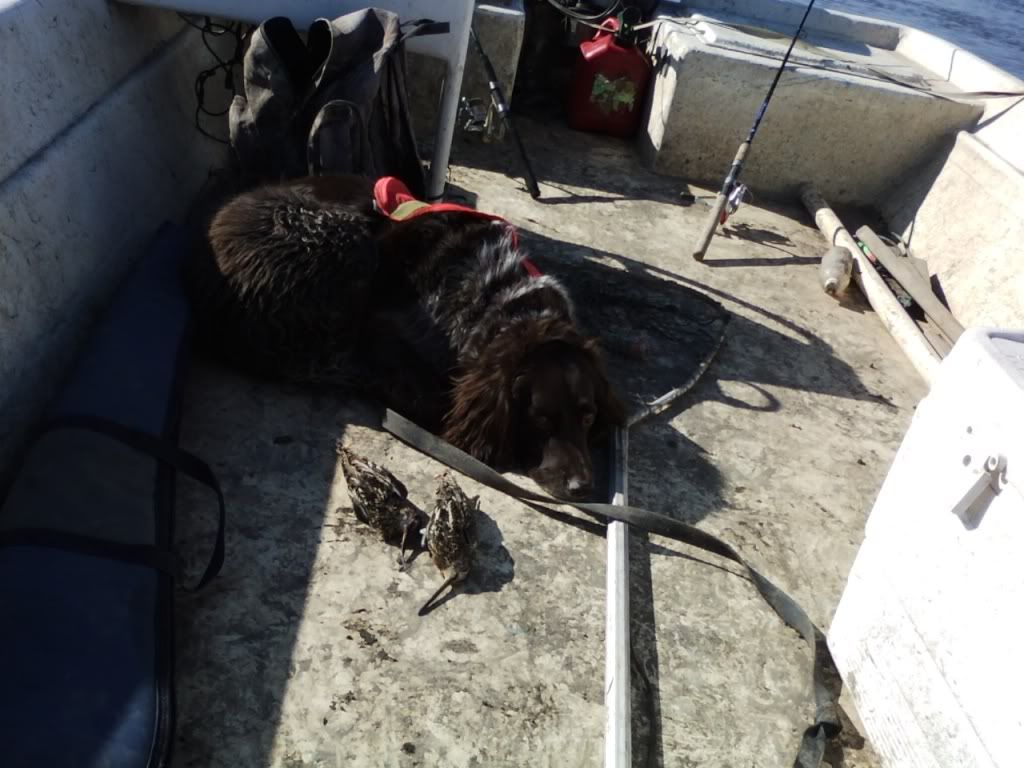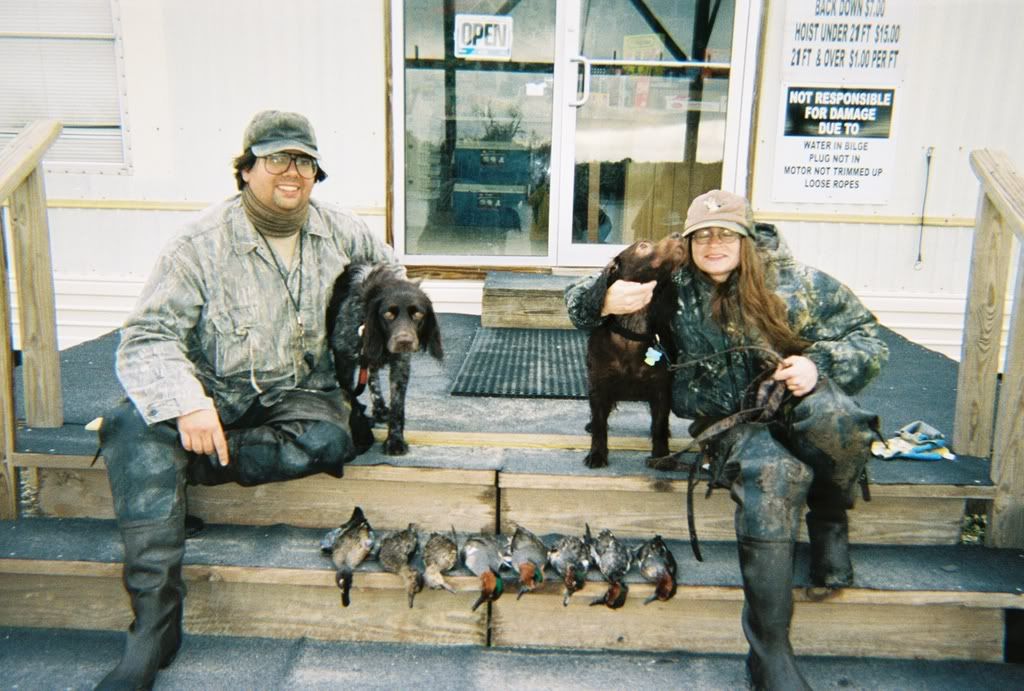 Hopefully the members will forgive my nostalgia as the second and third images have been posted previously. If you were interested we could try to set up a snipe hunt or we could just meet-up and let you take a look at Ava.
02-08-2011, 11:29 PM
Dave P.
DWNA-VDW, Breed Warden


Posts: 1,038
Joined: Apr 2006
Reputation: 1
When I was young, I thought snipe hunting was a joke, until my father took me snipe hunting with burlap bags when I was 10 years old, but then we never saw a single snipe! I shoot woodcock and them there snipe look like woodcock to me!
---
Dave Pepe
DWNA-VDW Breed Warden
Eagle River Wachtelhunds
dave@deutscherwachtelhund.org
User(s) browsing this thread: 3 Guest(s)