10-15-2009, 01:47 PM
Chris W.
DWNA Member


Posts: 47
Joined: Oct 2009
Reputation: 0
Hello to everyone out there in the Wachtel world. I am a new member without a Wachtelhund
at this time. But working on getting one. I am originally from Berchtesgaden, in the beautiful Bavarian Alps. I am in this country since 1969. I happily retired and live in Cashiers and Asheville, NC in the Western Carolina Mountains. I took up hunting in 2000 and spend a lot of time doing it. I have 2 Boykins which where never hunted. Since I am a partner in a hunting plantation
http://www.cedarridgeplantation.com
I am now ready for a real hunting dog. On occasions I hunt pheasants in SD but want to experience grouse, chukkar and the rest of the fliers. I have never trained a dog so new challenges arise. I know I will be Wachtel crazy once I have my first dog.
Let me know your experience with these fab. dogs
10-16-2009, 04:00 PM
Sal
Ex-DWNA Member


Posts: 79
Joined: Oct 2007
Reputation: 0
Hello Chris my name is Sal Jafarace aand I am the secretary of the DWNA. It is great to here from you I have 2 Wachtelhunds and Love them both. There are 2 litters on the ground right now. The names and numbers are in the forum under litters. Give them a call they might have a pup availible. I live in Ohio and have an open invitation for any member to come up and go hunting. Reply back or call 440 645-7110

Good Luck Sal
10-16-2009, 09:48 PM
Lance
Member


Posts: 230
Joined: May 2007
Reputation: 0
Chris, welcome to the forum. By all means continue your plan to get a wachtel, but in the mean time how old are your boykins? Boykins are typically great hunting dogs as well and if your dogs are still young and you have access to propagated birds for training it should not be hard to get them started hunting in the mean time. I assure you from experience boykins and wachtels can make a great team.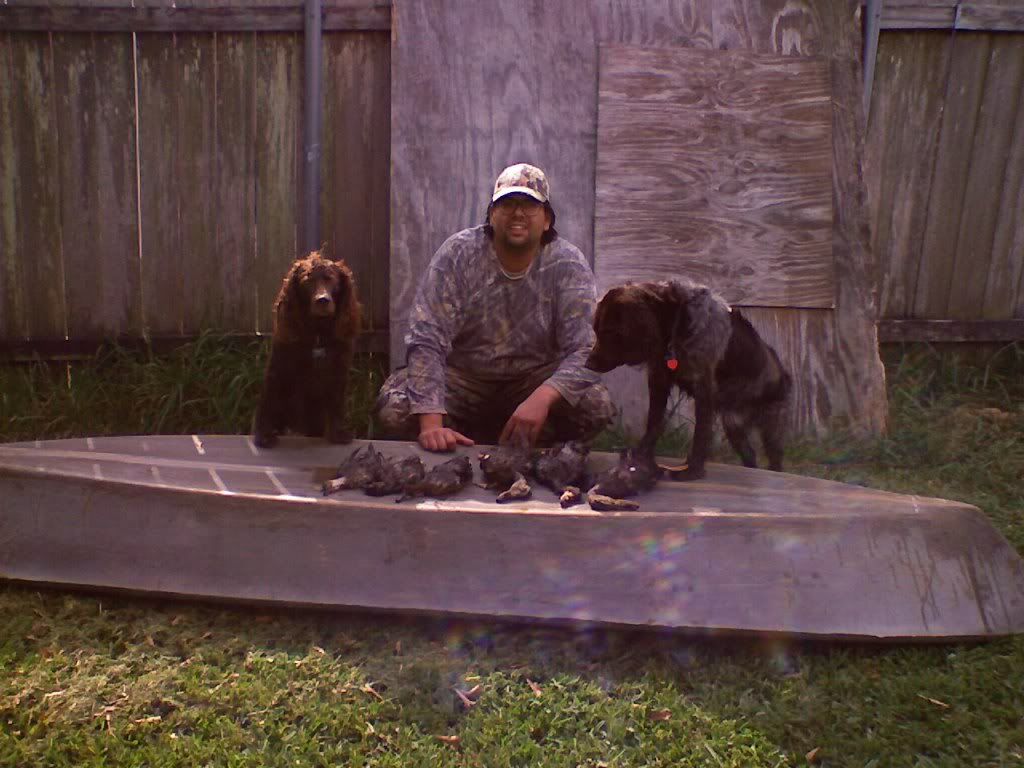 10-17-2009, 05:51 PM
Aaron
DWNA Member


Posts: 229
Joined: Sep 2007
Reputation: 0
Hi Chris,
If you are from Bavaria, I see why you are in Western NC. Bavaria is a very nice part of the world.
I live in Southern WV. Our hunting conditions are smiler. You will fined that Wachtel have superb noses and therefor are excellent trackers. They make good turkey dogs and are well suited to Appalachian Grouse. If you are hunting wild forest birds, I feel a flusher is better that a pointer. I speak from experience. My Wachtel is a stout little dog that dives into the thick brier tangles were the grouse are.
I wish you well in your Wachtel quest.
http://www.deutscherwachtelhund.org/Wach...orSale.htm
Aaron Kenstler
304-989-4515
10-19-2009, 03:27 PM
Dave D.
DWNA-VDW Member


Posts: 423
Joined: Apr 2006
Reputation: 0
Welcome Chris!
Your Plantation looks very interesting! Please let us know when you are successful with your search! Pictures are always good!

Good Luck!

Dave
---
Dave Dyer
OakRidge Kennels - Versatile Dogs for Versatile Hunters
http://www.Oakridgewachtelhund.com
11-07-2009, 09:11 AM
Chris W.
DWNA Member


Posts: 47
Joined: Oct 2009
Reputation: 0
I got a girl from Kraig Glazier
11-07-2009, 09:13 AM
Chris W.
DWNA Member


Posts: 47
Joined: Oct 2009
Reputation: 0
I got a girl from Kraig Glazier . Will get her in early spring. Can't wait to hunt her next year
User(s) browsing this thread: 1 Guest(s)